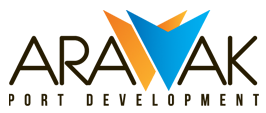 ABOUT NASSAU CONTAINER PORT
EXECUTIVE TEAM
Dion Bethell - President & Chief Financial Officer
President & Chief Financial Officer of APD Limited
Mr. Bethell is President and Chief Financial Officer of APD with over 14 years' experience in international shipping, having served as CFO at Container Terminals Ltd; a subsidiary of Tropical Shipping Ltd. Prior to this, Mr. Bethell spent over 16 years working in the financial services industry with his last role being that of Director, Vice President and CFO at W&P Fund Services Ltd. /The St. James Bank & Trust Company Ltd. Mr. Bethell serves as Chairman of the Bahamasair Employees Provident Fund and he is also a director of The Airport Authority.
Mr. Bethell has a Bachelor of Business Administration degree in Accounting from Tiffin University in Ohio, U.S.A. and is a licensed Chartered Accountant with the Bahamas Institute of Chartered Accountants and also ICA International Diplomas in Anti-Money Laundering and in Compliance. Mr. Bethell also completed Portfolio Concepts and Management programs at Aresty Institute Executive Education Program - Wharton, University of Pennsylvania.
Richard McCombe - Assistant VP, Operations & Facilities
Mr. McCombe is Assistant Vice President, Operations & Facilities. Prior to his promotion to his current post, Mr. McCombe served as the Senior Manager, Operations & Facilities. Mr. McCombe's career experiences in shipping include a period of time working previously with Tropical Shipping as its Operations Manager. In 1987, he moved to the Bahamas where he became the Managing Director for Jacharic Holdings, which operated Blue Lagoon Island, Sting Ray City, Divers Haven, Holland America's Half Moon Cay, and Splash. In 2002, Mr. McCombe left Jacharic to start his own businesses — Gussie Mae Ltd., Esso On The Run, and GEP Destination Management Company. His strong entrepreneurial and managerial background helped to prepare Mr. McCombe for his varied responsibilities at the Nassau Container Port and Gladstone Freight Terminal.