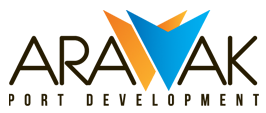 ABOUT NASSAU CONTAINER PORT
EXECUTIVE TEAM
Dion Bethell - President & Chief Financial Officer
President & Chief Financial Officer of APD Limited
Mr. Bethell is President and Chief Financial Officer of APD with over 14 years' experience in international shipping, having served as CFO at Container Terminals Ltd; a subsidiary of Tropical Shipping Ltd. Prior to this, Mr. Bethell spent over 16 years working in the financial services industry with his last role being that of Director, Vice President and CFO at W&P Fund Services Ltd. /The St. James Bank & Trust Company Ltd. Mr. Bethell serves as Chairman of the Bahamasair Employees Provident Fund and he is also a director of The Airport Authority.
Mr. Bethell has a Bachelor of Business Administration degree in Accounting from Tiffin University in Ohio, U.S.A. and is a licensed Chartered Accountant with the Bahamas Institute of Chartered Accountants and also ICA International Diplomas in Anti-Money Laundering and in Compliance. Mr. Bethell also completed Portfolio Concepts and Management programs at Aresty Institute Executive Education Program - Wharton, University of Pennsylvania.
Rudolph Tener-Knowles - Assistant VP, Operations & Facilities
Rudolph C. Tener-Knowles is APD's Assistant Vice President/Sr. Manager of Operations & Facilities, having more than two decades of expertise in the business, including stints at the Freeport Harbour, Freeport Container Port, and Grand Bahama Airport Company in Grand Bahama. He is skilled at managing client relationships, formulating corporate strategy, and ensuring operational efficiency. Mr. Tener-Knowles holds a bachelor's degree in business from Valdosta State University, as well as credentials in finance and entrepreneurship, and has attended industry trade fairs both locally and globally.
Kino Williamson - Assistant VP, Senior Manager of Finance
Mr. Williamson is the Assistant VP/Senior Manager of Finance with over 20 years' experience in the Accounting profession. He started his career at Deloitte, before moving to The Hongkong and Shanghai Banking Corporation Limited (HSBC) as the Finance Manager. More recently, Mr. Williamson served as the Head of Finance at Cable Bahamas where he had direct responsibility over all financial matters including financial reporting, debt financing, cash flow management, budget and strategic planning for the Group. In 2018, he transitioned into the telecom space as a Consultant with the Finance team at BeAliv Limited.
Mr. Williamson attained a Bachelor of Business Administration degree with a focus in Accounting from Acadia University in Nova Scotia, Canada. He is a Certified Public Accountant (CPA) and a member of the Bahamas Institute of Chartered Accountants. Mr. Williamson also completed his certification in the Canadian Securities Course.
Rita Ramsay, MBA - Assistant VP, Sr. Manager of Human Resources
Mrs. Ramsay is the Port's Human Resources Manager, with 20+ years' experience in the field of human resources in the airline and insurance industries. With a Masters in Business Administration from Nova Southeastern University, Fort Lauderdale, Florida, Mrs. Ramsay has a broad range of experience in managing properties, marketing, public relations, and assets procurement. In her previous post as a Manager with SkyBahamas Airlines, Mrs. Ramsay served as the liaison to key regulatory bodies in the transportation industry. She is a certified Project Manager and a member of The Bahamas Human Resources Association.