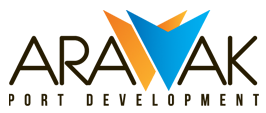 ABOUT NASSAU CONTAINER PORT
MANAGEMENT TEAM
Anthony Cooke - Financial Accounting Manager - Reporting
Mr. Cooke is the Financial Accounting Manager - Operations at APD with over 18 years of experience in the financial services sector, serving as Accounts Manager at Cooke-McIver & Co and Operations Manager and Money Laundering Reporting Officer at The St. James Bank & Trust Company. Mr. Cooke holds a Bachelor of Science Degree in Accounting and Finance from Florida State University in Tallahassee, Florida and also ICA International Diplomas in Anti-Money Laundering and in Compliance.
Brando Glinton - Gate Interchange Manager
Mr. Glinton is the Gate, Interchange & Berthing Manager at APD; previously working for over 24 years in various roles within the Bahamas Customs Department; most recently as a Customs/Revenue Officer. Mr. Glinton has attended numerous customs, intelligence and detection training courses over his career and is most notably certified to operate both the MT1213LT Mobile Container Scanner and the Heimman-Smith X-Ray portable Scanner. Mr. Glinton has his LLB Law degree from the University of Huddersfield, England and has an Associate of Arts degree in Management & Marketing from the Bahamas Baptist Community College in Nassau.
Rita Ramsay, MBA - Human Resources Manager
Mrs. Ramsey is the Port's Human Resources Manager, with 12 years' experience in the field of human resources in the airline and insurance industries. With a Masters in Business Administration from Nova Southeastern University, Fort Lauderdale, Florida, Mrs. Ramsey has a broad range of experience in managing properties, marketing, public relations, and assets procurement. In her previous post as an executive with SkyBahamas Airlines, Mrs. Ramsey served as the liaison to key regulatory bodies in the transportation industry. She is a certified Project Manager and a member of The Bahamas Human Resources Association.
Felix Rolle - Facilities Maintenance Manager
Mr. Rolle brings to his position as the Port's Facilities Maintenance Manager an extensive background as a contractor, building single and multifamily dwellings, commercial buildings and schools. For years, Mr. Rolle owned his own construction company, Felix Rolle & Sons, and was responsible for overseeing construction projects from concept to the finished product. With an electronics degree from the College of the Bahamas in Nassau, Mr. Rolle also received extensive training and systems certifications as a communications technician who worked closely with air traffic controllers in the civil aviation industry. Mr Rolle also holds the designation of Certified International Project Manager from the American Academy of Project Management.
Crispin Seymour - Operations Manager
Mr. Seymour is the Operations Manager at APD and has over 21 years experience in international shipping previously working at the Freeport Container Port and Tropical Shipping; most recently as the Heavy Equipment Maintenance Manager. Mr. Seymour has attained numerous industry certifications from various courses throughout the United Kingdom and the United States and is also a Reserve Police Constable attached to the Marine Support Unit of the Royal Bahamas Police Force Reserves.
Cloran Watchorn - Financial Controller
Mrs. Watchorn is the Financial Controller at APD, having been promoted from Financial Reporting Manager. Prior to joining APD, Mrs. Watchorn was the Assistant Financial Controller at Kerzner International (Bahamas) Limited and previously worked for over 13 years in the financial services sector; serving mostly as a client accountant at various institutions. Mrs. Watchorn has a Bachelor of Science Degree in Accounting from Nova Southeastern University in Fort Lauderdale.
Sheldon Duckie - IT Manager
Mr. Duckie is the Information Technology (IT) Manager at APD. He has worked with computers for over 26 years in various roles, including periods as a computer programmer, instructor and technician, with his last role being that of IT Manager for a leading educational institution in The Bahamas. Mr. Duckie's passion in IT lies in the area of Information Security and Risk Management. He currently holds the Certified Information Systems Security Professional (CISSP) designation, and has a Master of Science degree in Information Assurance from Norwich University, Vermont, USA.
Clement Lightbourne - Security and Surveillance Manager / PFSO
Clement Lightbourne is a retired Chief Superintendent of the Royal Bahamas Police Force to which national agency he contributed forty years, thirty-five of which were spent in the Security & Intelligence Branch. During his tenure he served as an intelligence supervisor, protection officer and leader of the counter terrorism efforts in The Bahamas for eleven years, eventually becoming the Director of the Security and Intelligence Branch in June 2011. Mr. Lightbourne remains connected to the Force as a member of the Reserve. In 2018 he received a Certificate of Proficiency in Vessel Security Officer, Company & Port/ Facility Security Officer from Maritime Professional Training – Masters, Mates and Engineers, Inc., Fort Lauderdale, Florida. In 2011 he obtained a Master of Arts degree in Strategic Security from the National Defense University, Washington DC. He also holds a Bachelor of Arts degree in Public Administration from Sojourner Douglass College, Nassau Campus (1999). He graduated from the Police Training College as the Best Recruit with the Baton of Honor. For his exemplary service he was awarded Meritorious Service, and Long Service and Good Conduct Medals.
Ralph Burrows - Environmental Health and Safety Manager
Mr. Burrows studied at Bahamas Technical & Vocational Institute, receiving the following certifications:
• Outstanding Performance in carpentry
• Construction Health & Safety Certified
• OSHA-Certified: Health & Safety Manager; Fall Protection; Confined Space. Additionally, he completed 900 Hours of training and curriculum to complete the ASP in accordance with BSA. From 2011 to 2014, he studied with Bahamas Safety Alliance and in 2018 at University of South Florida, receiving OSHA #511 Occupational Safety and Health Standard for General Industry.