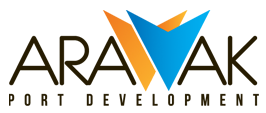 ABOUT NASSAU CONTAINER PORT
EMERGING BUSINESS OPPORTUNITIES
By moving all container port activities from Downtown Nassau to nearby Arawak Cay, APD Limited is initiating a cascade of new business opportunities on the island that promises to benefit entrepreneurs, shippers and the community at large:
Redevelopment of Downtown Nassau
Relocation frees over 20 acres of prime historic real estate for revitalization. This Downtown property can be redeveloped into a marina, restaurants, retail shops, entertainment and apartments. In turn, new business and employment opportunities will emerge for many Bahamians well beyond the shipping industry.
New Jobs
Immediately and over the long term, employment opportunities in both government and private sectors will be positively impacted by the new port, including:
Additional customs, carrier and terminal operator personnel to support expanded port operations to six days per week
Additional customs personnel for expanded customs entry processing at NCP
Additional police officers for enhanced security presence at NCP and GFT
New construction jobs have been generated with port development and more are expected
Rising employment with redevelopment activities in Downtown Nassau.
Public Ownership
Port relocation to Arawak Cay has provided the public-at-large with their first opportunity to invest in the shipping sector.
Lower Cost of Imported Goods
With more than 1,169 feet of berthing space and a 26-foot draft, the Nassau Container Port becomes a viable and strategic port of call for ocean carriers, potentially reducing trans-shipment and handling costs incurred by Nassau destined cargo. The increased draft also allows carriers to utilize a larger vessel for the Nassau call, thereby including multiple port calls in the schedule, resulting in lower vessel cost per TEU. Both scenarios provide Bahamians with the potential for lower cost of imported goods.
Savings for Local Buyers
By consolidating shipping operations to include bulk material, the construction industry benefits from bulk volume purchases of a variety of bulk aggregates. With larger inventories available, savings on volume purchases can be passed along to local buyers.
Support for Ongoing Development on New Providence
Moving the island's commercial shipping activities west to the Gladstone Freight Terminal will support ongoing business development in western New Providence.
Port Growth
Flexibly designed to expand with increasing cargo volumes and vessel traffic, the Nassau Container Port and the Gladstone Freight Terminal will be equipped to easily meet anticipated demand for the next 40 years. As New Providence emerges from one of the worst global recessions in decades, the port complex provides the island with a "bridge" to a new and more prosperous future.