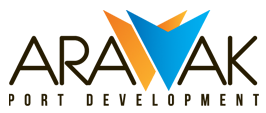 ABOUT NASSAU CONTAINER PORT
EXECUTIVE TEAM
Mike Maura, Jr. - President/Chief Executive Officer
Chief Executive Officer of APD Limited, Michael Maura, Jr. brings to this challenging post over eighteen years of industry experience. In that regard, he was a key driver in the port relocation initiative. He was initially Co-chair of the Southwest Port Task Force, which in 2006 was commissioned to explore the feasibility of locating container port operations from Downtown Nassau to Clifton in Southwest New Providence. Mr. Maura is credited with drafting the Arawak Port conceptual plan. He served previously as a founding director of Arawak Cay Port Development Holdings Limited and APD Limited, a post he relinquished upon assuming his current role as leader of the APD Team. Additionally, he has held key management positions within Tropical Shipping and the retail and wholesale grocery sector. He has also served as a director of the Bahamas Chamber of Commerce, and as a member of the Bahamas Trade Commission and the Bahamas National Development & Reconstruction Committee. Mr. Maura has a Bachelor of Arts degree in Economics with a minor in Business Administration from Rollins College in Winter Park, Florida, U.S.A.
Dion Bethell - Vice President/Chief Financial Officer
Mr. Bethell is Chief Financial Officer of APD with over 9 years experience in international shipping, having served as CFO at Container Terminals Ltd; a subsidiary of Tropical Shipping Ltd. Prior to this, Mr. Bethell spent over 16 years working in the financial services industry with his last role being that of Director, Vice President and CFO at W&P Fund Services Ltd. /The St. James Bank & Trust Company Ltd. Mr. Bethell is also Chairman of the Bahamasair Employees Provident Fund. Mr. Bethell has a Bachelor of Business Administration degree in Accounting from Tiffin University in Ohio, U.S.A. and is a licensed Chartered Accountant with the Bahamas Institute of Chartered Accountants.
Richard McCombe - Asst. VP, Operations & Facilities
Mr. McCombe is Assistance Vice President, Operations & Facilities. Prior to his promotion to his current post, Mr. McCombe served as the Senior Manager, Operations & Facilities. Mr. McCombe's career experiences in shipping include a period of time working previously with Tropical Shipping as its Operations Manager. In 1987, he moved to the Bahamas where he became the Managing Director for Jacharic Holdings, which operated Blue Lagoon Island, Sting Ray City, Divers Haven, Holland America's Half Moon Cay, and Splash. In 2002, Mr. McCombe left Jacharic to start his own businesses — Gussie Mae Ltd., Esso On The Run, and GEP Destination Management Company. His strong entrepreneurial and managerial background helped to prepare Mr. McCombe for his varied responsibilities at the Nassau Container Port and Gladstone Freight Terminal.
Yvette Rahming - Asst. Vice President, In-House Legal Counsel & Head of Safety
In 2016, Yvette Rahming was promoted to her current position from Senior Manager, In-House Legal Counsel, Human Resources & Safety. Mrs. Rahming was born on the island of New Providence and received her early education at St. John's College and St. Anne's Anglican High School. Before embarking upon studies in law Mrs. Rahming worked at a leading Bahamian law firm where she gained years of experience in property, corporate and commercial law. She then obtained an LLB with Honours from the University of London in 2008 and her Certificate of Legal Education from the Eugene Dupuch Law School. Having been called to The Bahamas Bar in 2010, Mrs. Rahming practiced in the commercial and corporate department at the law firm of C. F. Butler and Associates. Mrs. Rahming received her LLM degree and postgraduate diploma from the University of London in 2015. She has a wealth of business experience having operated her own business consulting and staffing firm for a number of years.