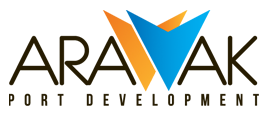 ABOUT NASSAU CONTAINER PORT
HISTORY
1969
The 100-acre Arawak Cay, site of today's Port, is built from Nassau Harbor dredging spoils.
1980s
Commercial shipping operations begin at Arawak Cay, handling approximately one-third of the island's container volumes.
1990s-2011
As commercial shipping increased in Nassau, more than 60% of all containers and 80% of all less-than-container-load (LCL) cargo are discharged on historic Bay Street — the balance at Arawak Cay. Over time, noise and exhaust pollution negatively impacted the beauty, charm and experience of Downtown Nassau.
2006
March—Government invites shipping stakeholders to a meeting to discuss the relocation of commercial shipping from Downtown Nassau.
April—Joint Task Force formed to produce a plan for a new Port in Southwest New Providence. Government and private sector partner in the project.
2007
June—A public-private task force was established to focus on container Port relocation from the downtown waterfront. APD Limited was created as a public-private sector corporation tasked with relocating container port activity to Arawak Cay.
2010
May—Government and Arawak Cay Port Development Holdings, the private sector consortium, sign a Memorandum of Understanding for developing a new Port at Arawak Cay and an inland terminal with Government and the private sector as 50/50 partners in Arawak Port Development.
June—Onsite construction activities started around this date.
July—The Government of the Bahamas and the shipping stakeholders each invested $20 million for a total of $40 million, equating to 50% equity for each. The remaining $43 million of the $83 million was provided by Royal Bank of Canada.
2011
July—The new Port opened for business with a new name — the Nassau Container Port. The multi-use Port complex, which includes an Inland Terminal with consolidation warehouse, is designed to handle 100% of container, general cargo, dry bulk and aggregate materials. This relocation of container and general cargo volumes frees up 40 acres of waterfront property in Downtown Nassau for revitalization of the city.
July—A website is launched to support the Nassau Container Port and Gladstone Freight Terminal.
2011-2012
Betty K Lines, Tropical Shipping, Seaboard and LCL operations relocate to Port facilities from existing locations in Downtown Nassau.
2012
January — A historically successful IPO gives the public an opportunity to own shares in the new Port, as part of a public-private joint ownership arrangement with the Government of the Bahamas and APD Limited. Ownership it 40% Private, 40% Government and 20% Public following the IPO.
January — All Port terminals become operational and Gladstone Freight Terminal semi-operational.
February—The Port's $10-million IPO is completed, the largest in Bahamas history. With 996,915 additional ordinary shares issued to the investing public, it brings the total issued ordinary shares to 4,996,915, with the Government and the Founding Private Sector group each holding 2,000,000 ordinary shares each.
April — The bulk and break-bulk areas, and the container terminal, are completed. All Bay Street carriers have now moved to Arawak Cay.
May — Official grand opening of Nassau Container Port.
August — Gladstone Freight Terminal opens.
2013
July—Private Placement launched, sale of preference shares.
August—Weatherportal launched on website, free for subscribers.
December—1st dividend paid out on December 11th 2013. $0.26/share.
2014
January—NCP ranked #1 out of 24 ports in the Caribbean for productivity by the powerful Florida Shipowners Group.
March—The Port's popular website is updated with many new features that benefit shippers and customers alike, including a WeatherBell real-time weather forecasting module with an "extreme weather alert" that streams across the home page.
January-March—Completion and opening of 25,000-square-foot Administration Building, housing APD's headquarters, Bahamas Customs, shipping companies, Department of Environmental Health and the Royal Bahamas Police unit.
April—To make cargo retrieval from storage easier and faster, the Port implemented an online payment system in which customers can pay for cargo in advance with a credit card.
December—2nd dividend paid out on December 12th 2014. $0.62/share.